Mindful Walking: Sole to Soul?
At a beautiful old St Cuthman's house in Sussex, I recently had my first experience of a seven-day silent retreat run by Oxford University's Mindfulness Centre.
The oak-panelled library and huge gardens were ideal for our tight daily schedule, rising each day at 6:30, sitting before breakfast and then alternating sitting and walking throughout the day before our evening talk from our teachers.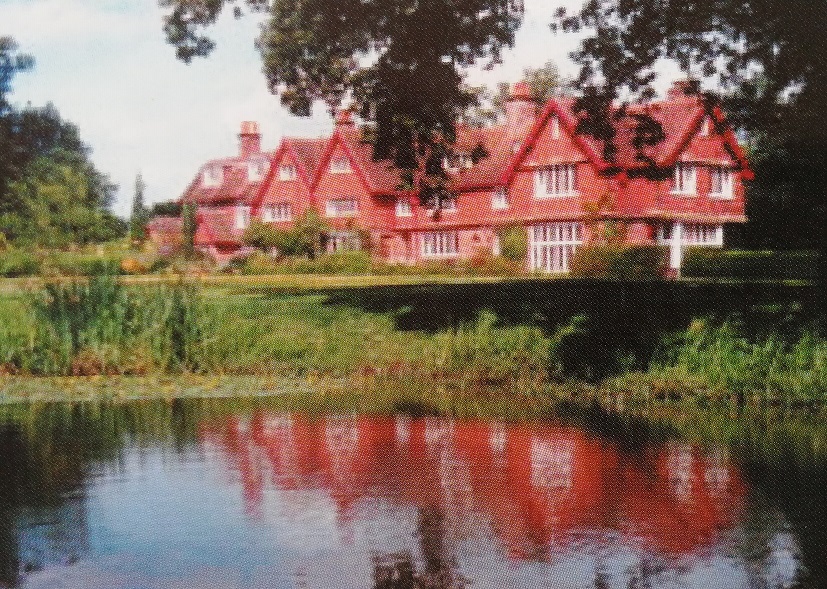 Don't Read in the Library
The sitting meditations took place in a magnificent dark wood panelled library, its walls lined with enticing subjects:- philosophy, history, religion, biographies, nature; and one of the first things we were told was not to be tempted by them.
"Even if you find yourself alone in here, and no-one else would ever know, still try to avoid even flicking through a few pages!" was the advice given.
Having spent my entire career in education, this was a surprising thought.
NOT reading is the best approach. OK. This is going to be an interesting week.

The Sound of Silence
I found I loved the silence. The stunning, expansive gardens were alive with birdsong and a strong sense of peace. When sitting in the library I experienced a warm sense of being connected with not just the people present, but also with many people from the past.
How many others had sat in this same room to learn about their worlds?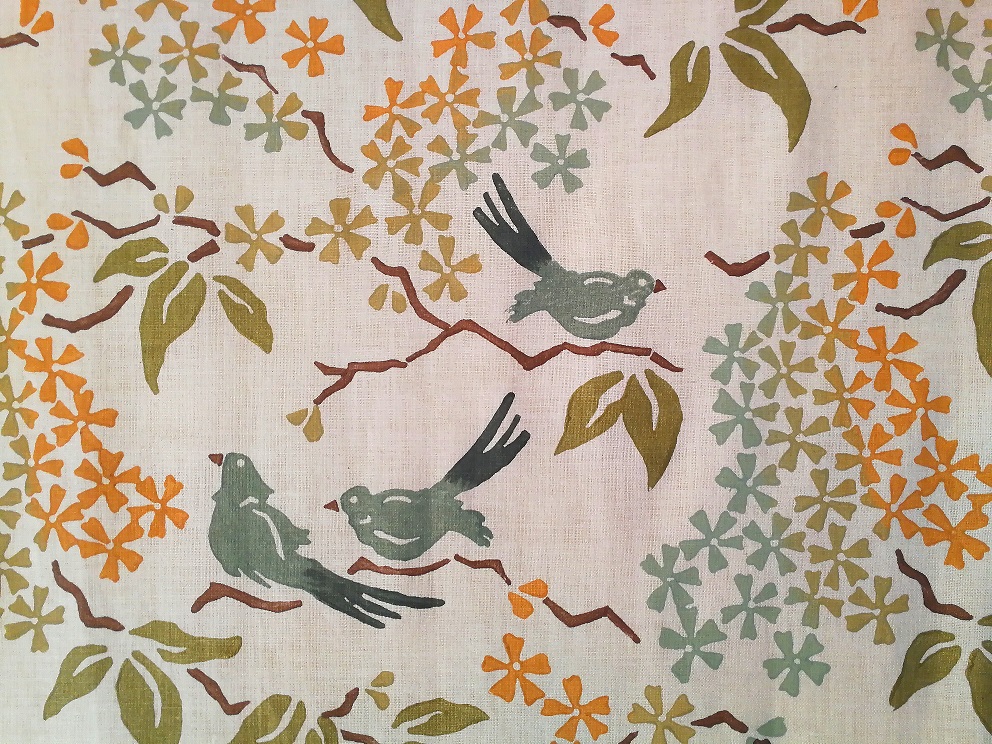 Sitting Still
I've been meditating regularly for five or six years now, so was used to sitting on a cushion or stool, or kneeling, but this was a whole new level.
We were given some great advice from our teachers, Christina Feldman and John Peacock. Some people had back problems, but if they lay down, they were much more likely to fall asleep.
The solution? Raise your forearms.
Feeling sleepy while sitting? Then it's fine to stand up.
I ended up doing both; I found that standing with my arms raised was enormously helpful in keeping me more alert, particularly as it's the "I'm ready for your attack" position in my aikido practice!
Weird Walking (Day One)
We were invited to spend 45 minutes walking back and forth along a five to ten metre stretch of our choice in the huge grounds. My inner chimp was very resistant.
Forty-five minutes? Just five to ten metres? Really?
"Be experimental with your walking," they said.
Like Monty Python's Ministry of Silly Walks?
"We'll ring a bell when it's time to return."
Luckily my answering human took control:
Go with it. Learn. You've paid a lot for this course. They're the experts. Just try it. Just do it.
OK... but I'm definitely going to have to do this somewhere out of sight of the others...
I had no idea how to approach this bizarre session, but I gave it my best shot and was certainly experimental. Christina had told us of the monks who walked backwards in Thailand. "You can't walk backwards on autopilot", she said.
It seemed a good place to start.
I got quite involved in finding new ways of moving my body- whether all of them could be called walking is doubtful, but it certainly kept me present, it kept my mind focused, it challenged my body and it was a beautiful day in beautiful surroundings.
I was happy. I felt liberated, creative and was feeling some sympathy for those who were still merely walking up and down like normal humans.
For Whom the Bell Tolls
The bell rang and we returned to sit. This was the pattern throughout the week. Some sessions seemed to flow easily, while others were more of a struggle.
I continued with the walking, gradually daring to let myself be seen as my gait returned to normal and I tried out the "zombie shuffle" as our teachers called it. "You don't have to walk slowly," they said, "Just explore."
Hedging the Issue
I started choosing more challenging places to walk: - near the main road, so I was aware of the traffic rushing by unseen on the other side of the hedge; up and down irregular stone steps, and finally, closely alongside a high laurel hedge with trees and clumps of plants as impediments -and a massive manure heap surrounded by tall nettles as my endpoint.
By now I had realised that my John Cleese impersonations, however much fun they had been at the time, were really not appropriate.
As I walked up and down, the big leaves brushed roughly against my face and eyes. However, I found that if I turned my head only slightly away, it felt as if the leaves were gently stroking my hair instead.
Interesting.
By merely adapting a tiny fraction, the whole experience had changed completely.
Hmmm... Maybe this is what they meant about exploring...
The Manure Heap of Life
As I continued to walk up and down to the impenetrable and uninviting pile, I noticed that on the left-hand side I could just take one or two more steps further in.
Each time I reached it, I took a couple of extra steps - until finally, the whole huge obstacle was behind me.
Encouraged and delighted by my success I resolved on the next pass I would just keep walking through the dark nettle tunnel until I really couldn't go any further. To my delight and surprise, I walked right into a lovely light orchard area planted with colourful flowers.
Another wonderful metaphor!
An Embodied Learning Experience
At the end of the week, John said that most people get their insights while walking rather than sitting and this was certainly true for me.
During another walking session, I was particularly attracted to a picturesque old shed in a meadow, with large white clematis flowers growing up through the trees surrounding it. As I drew closer, I could see that the interior didn't live up to its exterior promise.
It was unkempt and dilapidated, unloved.
The other end of this particular short walk was a small chapel, architecturally bland with nothing about it that interested me. But inside, it was filled with fresh flowers, neat rows of wooden chairs and was clearly a cherished place.
A question arose:-"Would I want to live in that place... or that place?" I found myself considering a particular relationship and concluded that appearances can be deceptive and it's not what and it looks like from the outside, but what it feels like living in that place, that relationship, that matters.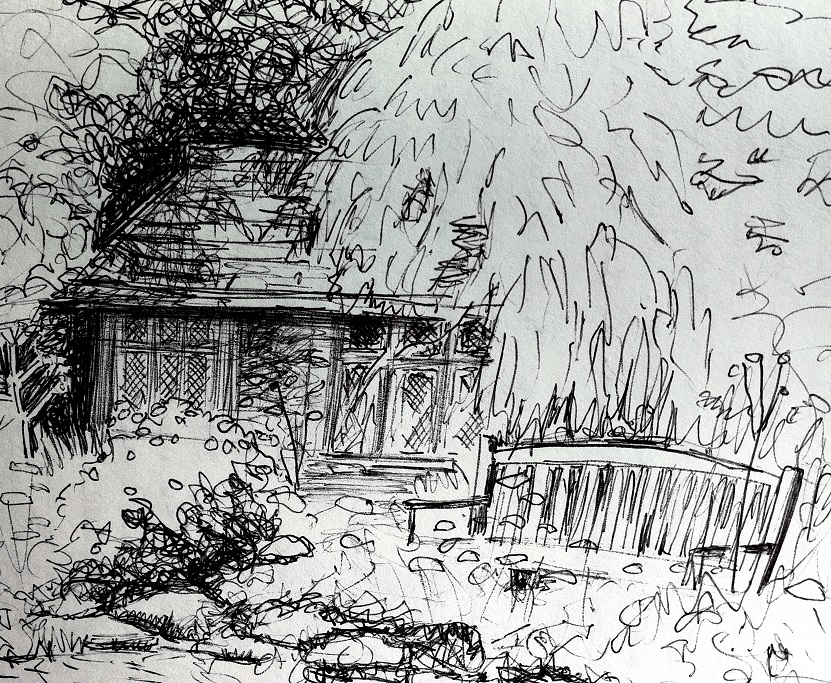 Feel That Connection
As my favourite artist, Grayson Perry says, "It's easy to know something in your head. To know something in your heart, soul and body takes a lot longer."
And sure enough, as the week progressed, the visceral insights became more frequent, and the walking definitely facilitated this. The gentle, bi-lateral movement really did engage the brain in a way that doesn't happen when sitting or standing still.
We might hear many platitudes so often that they simply slide over us, but I was beginning to really understand phrases such as "holding the space...", "connecting with...", "at one with..."
The Magic Green Spider
One day at lunchtime, I was sitting by a waterlily pond when I noticed a bright green spider apparently walking in thin air from one side of the bridge to the other.
There was absolutely nothing that I could see that it was walking on across this six-foot-wide space, yet clearly, it was walking.
My head knew that there must be a web thread there; my guts understood more.
From years of teaching teenagers, I know some seeds that I planted are sometimes growing slowly, even when it seemed they'd been lost altogether.
Don't believe there's nothing happening.
The spider reinforced this powerfully, visually, beautifully, quickly. And when it reached the other side of the bridge, it became golden in the new angle of the sun on its back. I saw it change from green to gold.
I saw it walk in thin-air.
Miraculous.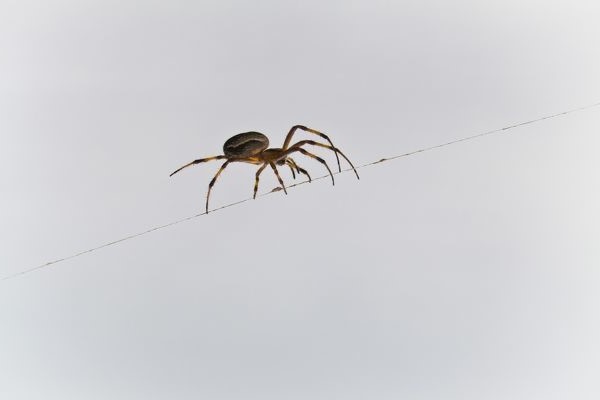 True or False?
And yet, everything was still the same. It was simply now a spider walking on the other side of the bridge. Sometimes what we see is not the only truth: it's simply one possibility. Neither true nor false, neither right nor wrong; just one way of seeing things.
Adjust the angle, change the viewpoint, move the head, move the mind and it'll be different. A different reality. We have possibilities. Choices.
As quantum physics tells us, all these realities can be simultaneously true. The spider is gold. It is green. It just depends.
Ending the Silence
After our 7am sitting on the final day, we were told that the silence had now ended.
But I've not finished thinking yet! Was the surprising though that presented itself to me -even though we'd been "not thinking" throughout the week.
I went for a final solitary stroll to get used to the idea before joining some of the others for breakfast.
It was really lovely to be able to talk with the other participants who'd been so supportive throughout the silent week. We had shared experience and there was a real closeness. We had all benefitted and grown.
Will I continue with mindful walking?
As with most things, the more you learn the more you realise there is to know. I find that the gentle walking helps me order my thoughts, resolve worries and develop my deeper understanding of how life is. There's always more to learn. And I'm very interested in me.
So, my answer is, "Yes. Definitely."
With grateful thanks to our excellent and very experienced teachers, Christina Feldman and John Peacock, to all the participants and to the staff at St Cuthman's, Coolham http://oxfordmindfulness.org/.